Behind the Scenes -- a team effort
Each board produced by Haze Surfboards is the result of a coordinated process, including designer, shaper, laminator, glosser, fin installer, artist, and sander and polisher. I do a little celebration dance when a board comes off the finishing racks to honor the labor and love that brought it together. Check out below to learn a little bit more about how our boards are created -- maybe you'll be doing a little two-step when you treat yourself to a new board!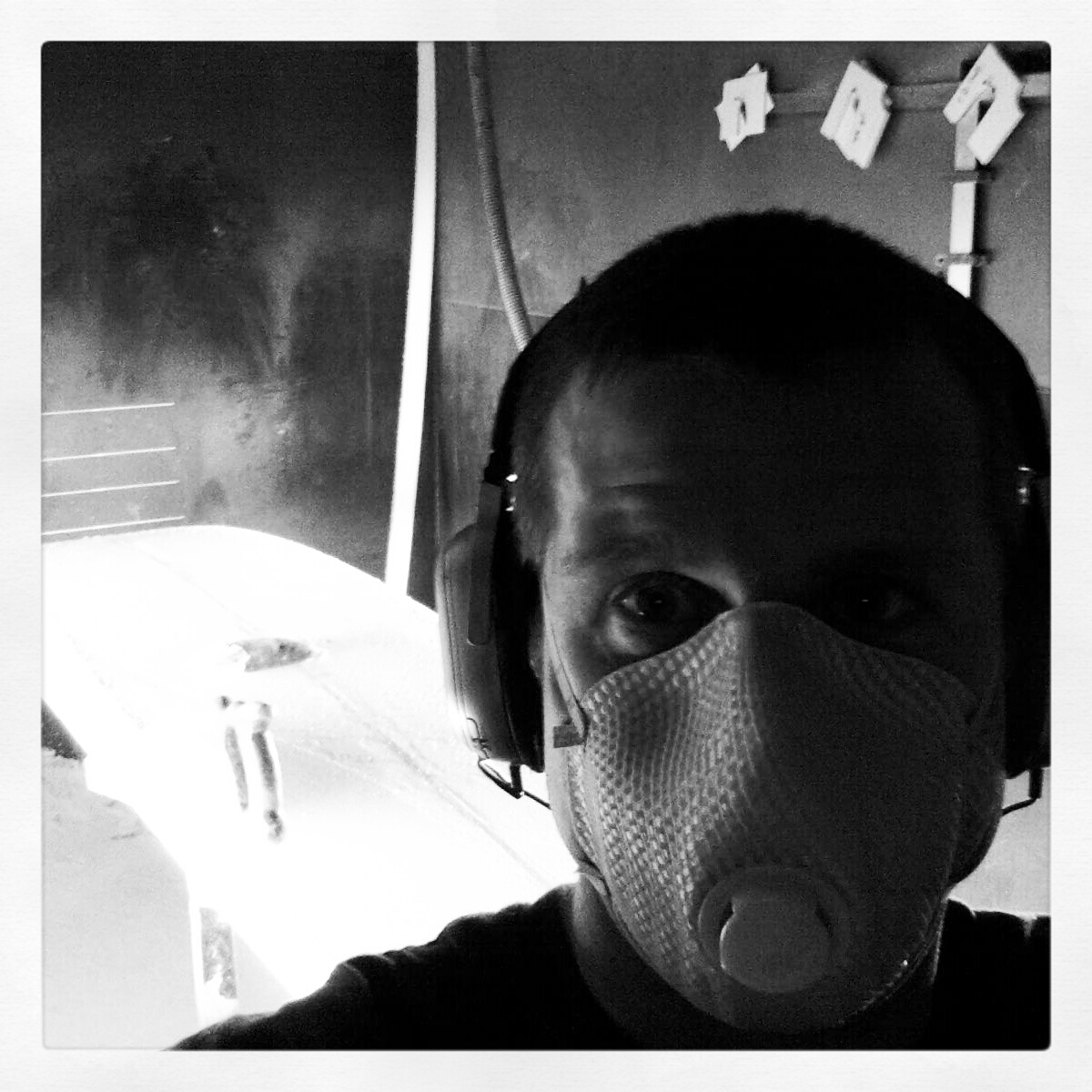 Haze offers over 10 models, which are constantly reevaluated by our designers and shapers, with new models in a state of constant development. These designs are the result of theorizing, research, trial and error, and endless conversation with surfers, shapers, and other technical wizards. Both custom and semi-custom orders pass under the spinning blades of our shaper's power planer, bringing concept to reality.
...the key to your surfboard
How does your board resist weathering, knee and heel impact, crunching waves, or irresponsible airline baggage handlers? The answer is lamination. No matter what construction materials are used for your board (i.e., polyurethane, epoxy, or plant-based resins), lamination is key to making a timeless and durable surfboard.
A few photos of the lamination process:
Shapers are too often given the spotlight when in reality the best surfboards are produced only when the best laminators are involved in the process. We asked our team's laminator why he thought lamination was such a key component of the surfboard construction process. In reply, he asked us to think about the features that make those memorable boards for each surfer's quiver stand out from others. We thought about it and realized that it was the volan patch work of that classic log, the durability of a big ole glider, the light-weight responsiveness of a performance board, and of course the deep resin color abstracts of a timeless egg.
These features, among others, are all brought to us by the highly skilled hands of the surfboard laminator. So next time you're thinking about your favorite surfboard shaper/label, ask yourself who laminates those surfboards; chances are that they are the ones alchemizing your memorable surf-craft.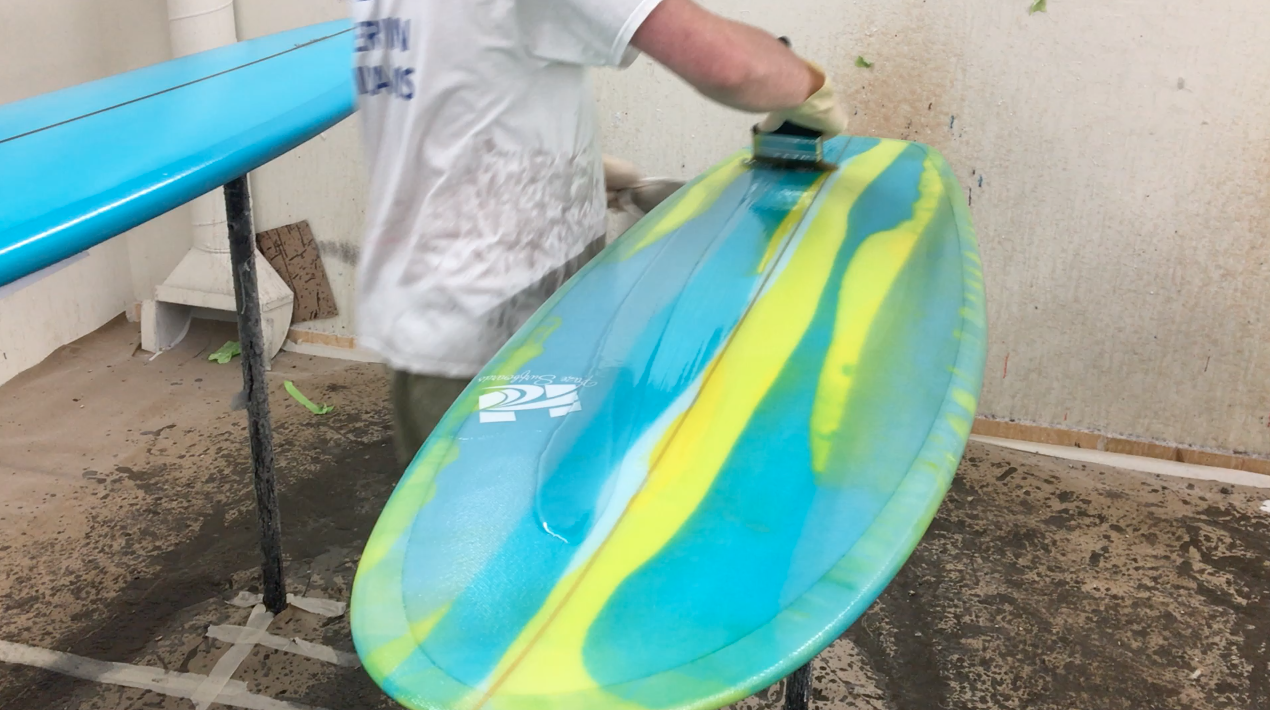 Sealing lamination for a clean finish
Our gloss coat team members are responsible for ensuring that each lamination is sealed and protected so that your board can be given a clean finish. Have you ever tried painting with a brush and afterwards found specks of dirt, bugs, bristles, and other debris ruining your finish? It can be agonizing to get it perfect, right? That's why special attention needs to be given to the fine details to make sure your board comes out fresh and clean.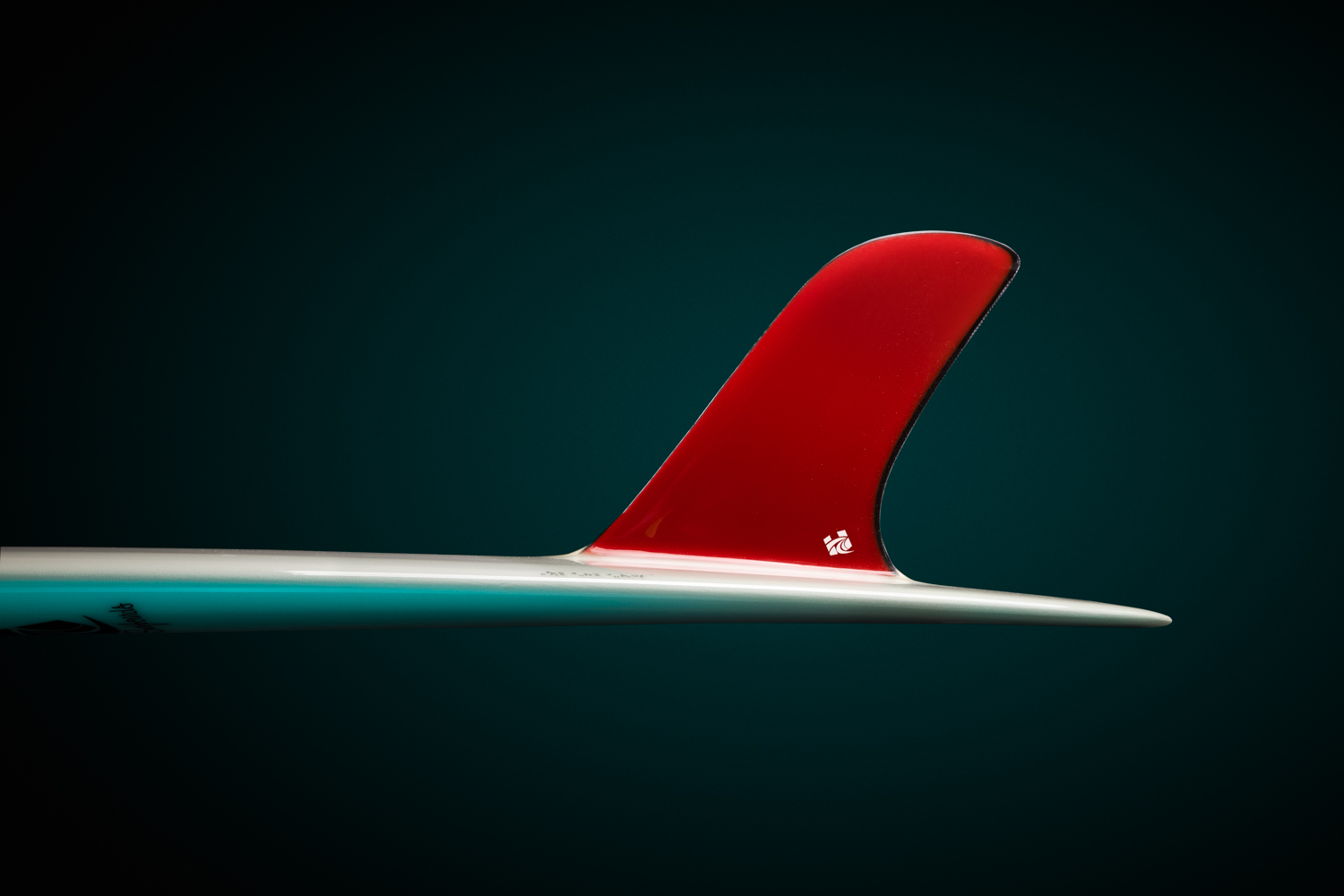 Glide, Stability, & Control
Whether your custom or semi-custom board features a box-based system (i.e., Futures, FCS) or glassed-on fins, accurate and technically sound fin installation is a must. Fins are placed with a keen awareness of hydrodynamics, surfer-based forces, board type, and other crucial construction considerations. From years of trial and error and research, our team of fin installers know why fin placement and fin selection is of utmost importance for your custom or semi-custom design.
After every step of the process has been completed, slight irregularities of resin and fiberglass are smoothed out by our crew of sanders and polishers. Whether you want a matte-like sanded finish, or a highly polished piece of functional art, our team relies on these tactical and technical members to apply the right sequence of sandpaper grit, wet sanding, and compound. These craftsmen are the capstone to each order and are able to deliver that special finish and shine to your custom and semi-custom Haze Surfboard.
- - -
Thanks for checking in!
Now, when you treat yourself to a new board, you'll know a little bit more about how it was created, and will hopefully be dancing in celebration!